Facebook is unquestionably one of the biggest social media advertising platforms, making it the market leader. A survey from October 2020 stated that Facebook holds more than 2.7 billion registered accounts.
It is crucial for businesses all sizes to keep up with new Facebook trends if they want to reap all benefits it has to offer.
Facebook tools and trends are advancing at a colossal rate every day. So it is going to be interesting to know what big changes are expected in 2021.
In this blog, I, (Cedric Potvin) will be sharing my top 8 research-based predictions for Facebook ads to look out for in 2021.
"Because after all, those who fall behind are those who did not think ahead."

-Sydney Switzer
Here is a summary of the 8 key upcoming Facebook trends:
Let's now dig into the details of each trend one by one.
If you'd rather consume this by watching a video, you can do so by watching this video:
1. Facebook Augmented Reality (AR)
If you've ever tried one of those filters on Facebook or Instagram, that's Augmented Reality. AR offers a clear connection between the physical and virtual world, where we take a physical object and add viral context to it with augmentation. 
We can show things that might not fit or be possible in the real world. Like trying on sunglasses at home, or making a painting of the Mona Lisa come to life.
Facebook introduced a free, open-source software called "Spark AR" that enables you to upload effects to create an "augmented reality". From there, you can share it with your audience on your story, and even promote it as an ad. You can use AR for doing things like placing a new couch in your home to make sure the couch suits the space before buying it.
I believe that now is the best time to start experimenting with Spark AR because of its endless possibilities to enhance a user's experience with your brand. It will become one of the mainstream technologies used in 2021. Though it has been mostly used on social media, there is also the possibility to have augmented reality on a website that could benefit the e-commerce companies the most by enhancing the customer's buying experience.
2. Facebook Acquires Kustomer – Facebook CRM?
Kustomer, a CRM startup that was founded in 2015 was recently purchased by Facebook. It can rightly be referred to as a "digital-first customer service solution". The Kustomer platform can put together all customer conversations and display them on a single platform. It enables businesses to automate repetitive tasks and brings out a simplified picture of a brand's relationship with the customer.
It seems that Facebook is strategically decreasing the dependency on third-party tools to track customer engagements, so it will be interesting to see how Kustomer CRM moves forward in the near future. 
But my prediction is that in 2021, we will be able to access sales sequences and automate follow-ups that will integrate directly with Facebook Ads Manager.
3. Newsfeeds Will Remain The King
In 2021, I predict that newsfeeds ads will continue to secure its position at the top of the list for best ad placement.
The Facebook newsfeed has been redesigned to make it simpler than ever before for users to scroll and see the content they actually like.
Hence, it is predicted that Facebook newsfeed will keep dominating… but stories will also show great potential. So I keep an eye out for Facebook & Instagram stories placements aswell in 2021.
4. Customer Journey Tracking
Facebook analytics tool is another powerful tool showing great potential for 2021. It is a complete tool that gives full insights and data of your funnel. From the first time a user sees an ad, to visit your landing page, viewing your content, to the day they convert.
If you aren't already using Facebook for business, this tool is a great way to track your customer's journey. It allows you to create your own funnel to map the customer's engagement from initial awareness to the final conversation stage.
My crystal ball foresees that the Facebook analytics tool will replace Google Analytics for tracking data Facebook ads. However, tools like Google Analytics will still be in demand for routing sources of traffic other than Facebook.
5. Increased Use of Dynamic Creative Feature
Dynamic creative combines basic components such as images, video, title, description, CTA, etc to create a fully optimized ad based on the user's preferences. This quick creation workflow can be used to test various creatives without needing to perform an A/B split test. 
I've made a separate video that explains in-depth how Dynamic Creative allows you to create a variation of ads that are personalized for the user that you can watch here.
The Facebook Dynamic creative feature is the next great tool to add to your advertisement plan. I feel that this tool will gain immense popularity in 2021 among Facebook advertisers, especially beginners.
With all the changes being made to privacy policies, tracking, and the increase of ad blockers, I predict that use of custom audiences based on customer lists will increase in 2021.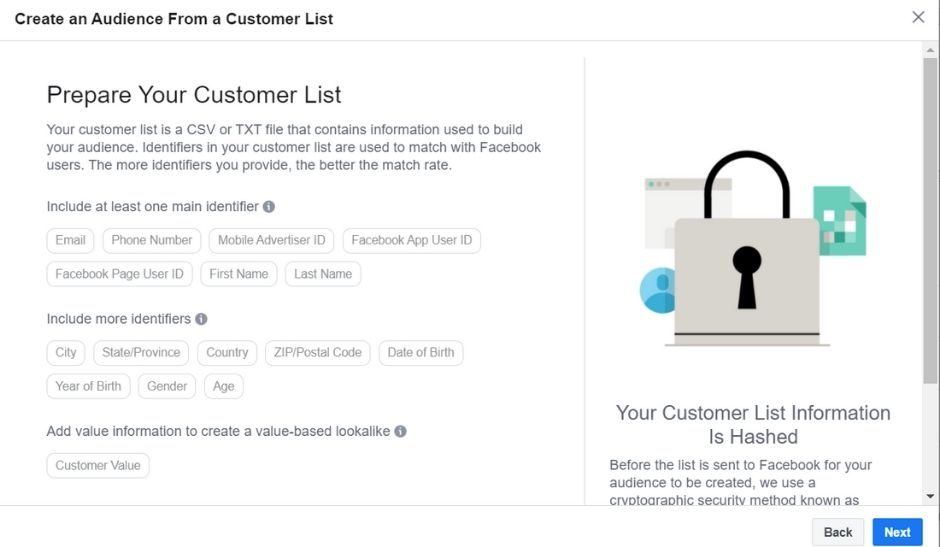 Facebook allows you to create your own custom audience in the form of a "customer list".
This list is made out of the information you provide such as email, phone number, and address, etc.
The data is termed as "identifiers". The information is then matched with the Facebook profiles and lets you find the suitable audiences for your ad.
The key is to include maximum identifiers, the higher the number of identifiers, the greater the chance of getting the best match.
Facebook recently announced a new feature to help businesses grow amid pandemics. Instagram shopping allows businesses to post their products on their feeds. Users can now seamlessly browse companies' products directly on Instagram, or Facebook.
My forecast for this new feature is that soon Facebook will have their own warehouses just like Amazon does.
Imagine how convenient the shopping experience would be for the user. Not only would they be able to buy directly on the platform, but before they make a purchase they would be able to check out the brand's social media. Why would someone still choose Amazon if they get all (products, reviews, comments, delivery service) on the platform they already spend so much time on.
8. Device Fingerprint Tracking
With the rising concerns of privacy, 3rd party apps like Google and Facebook are starting to have a hard time tracking users coming to your website.
My final prediction for 2021 is companies will have to collect the information about their users themselves using things like device fingerprint instead of relying on 3rd party apps.
The reason I believe this is because companies like Apple are partnering with great enterprise adblockers to limit the information you can send from one domain to another (cross-domain tracking).
So I think you'll be required to capture that information yourself and store that information in your own servers and afterwards send it to 3rd party apps.
If you want to learn more Apple's privacy policy update & it's workarounds make sure you watch THIS VIDEO.
These are simply predictions. Are they 100% correct? We don't know yet. But based on my research, this is what I think, and what our agency is preparing for. The best way to prepare for the future is to learn, and execute. 
And you never know… maybe by the end of 2021 I'll realize my real calling is to be a fortune teller.
Liked what I said? Let's keep the conversation going. Let us know what you think in the comment section of this blog, or any of our youtube videos.
Cedric Potvin
Facebook ad specialist
As a Facebook ad specialist at Vertex Marketing Agency, Cedric manages a lot of different ad accounts and spends a lot of money on Facebook ads. His goal is to share what he learns with the rest of the population.